A warmer, quieter back bedroom in a Victorian house
Problem
Main roof insulation below the current recommended level of 270mm
Flank wall of the rear bedroom was only a half brick (115mm) thick.
EPC calculated at 59: band D for Energy Efficiency Rating and band D for the Environmental (CO2 ) Impact Rating.
Solution
PIR insulation boards and plasterboard finish increased U-value for the wall to 0.25 W/m2K: reduced use of fossil fuels and lower CO 2 emissions.
The EPC is now 64 for Energy Efficiency Rating, up from 59
This typical end-of-terrace Victorian house, now used as a letting property had inadequate insulation and the wall of the rear bedroom was only a half-brick thick. As a result the bedroom was very cold.
All landlords must now produce an EPC (Energy performance Certificate) so an energy audit was carried out and report prepared.
How We Improved Things
Top-up fibreglass insulation added to the roof void
Flank wall lined with PIR boards which give maximum insulating properties for minimum thickness: the impact on the internal space is small
Plasterboard lining fitted and skim finished, skirting boards and sockets refitted
Benefits
The EPC has now been recalculated and has increased to 67 up from 59 for Energy Efficiency Rating, which has reduced the energy used and consequently the heating bills! The house is now warmer and the bedroom much more comfortable for the tenant.
Taken together the benefits have made the house a more attractive letting prospect.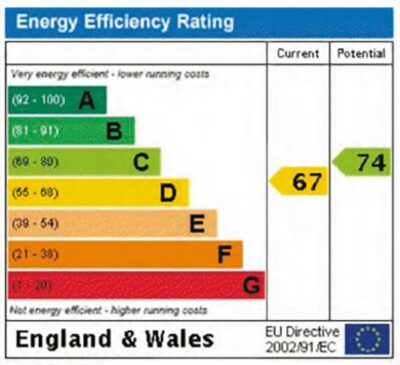 The EPC is now 67 for Energy Efficiency Rating, up from 59
To find out how we can help improve your property in lots of ways visit our website www.app-ltd.com or telephone 01223 244515.