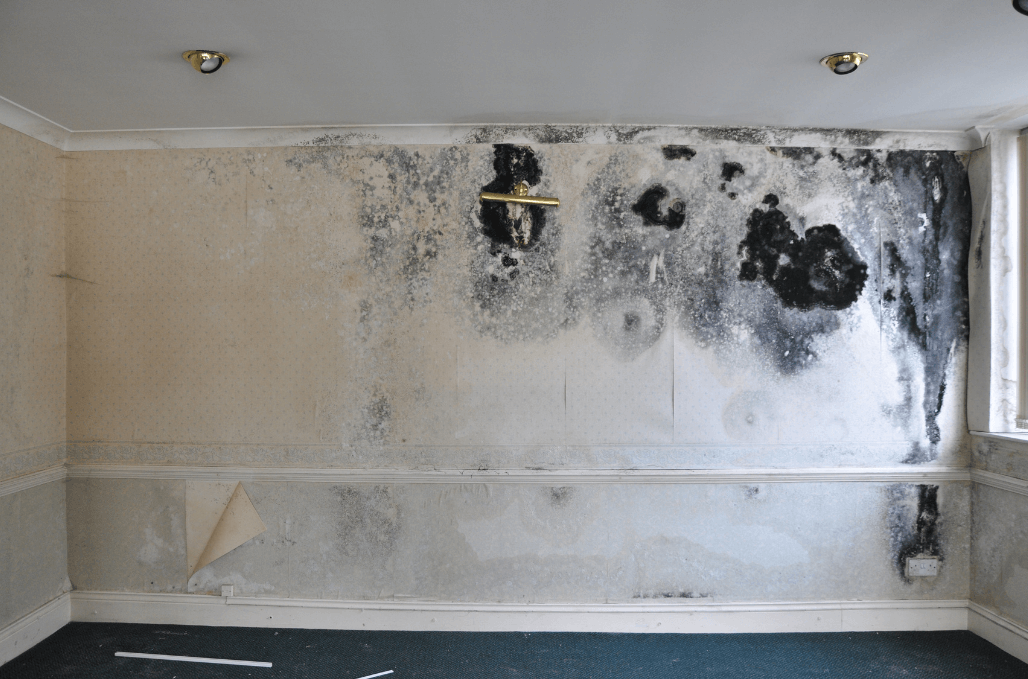 What Is Penetrating Damp?
Penetrating damp is one of the most common causes of damp and it can occur in any property and at any level. Also known as lateral damp or water ingress, penetrating damp is when moisture makes its way into the interior of a building through an external wall. This most likely happens through the degradation of external brickwork or stone walls to the point where they become porous and allow water to pass through them.
Penetrating damp can affect any age property but is more common in older buildings that have had a lack of maintenance over the years. If left untreated, this type of damp can cause significant damage to walls, floors, ceilings and can lead to timber rot.
The Signs of Penetrating Damp
Watermarks or stains on your interior walls are usually the first sign of penetrating damp. These damp patches will grow as the water continues to enter the property, with mould often appearing on the cold damp surfaces.
The damp can be in isolated areas and can worsen when there is heavy rainfall (although it can also affect an entire wall depending on the severity of the problem). Penetrating damp usually occurs in places exposed to the weather or if there are missing tiles or failed render, gutters or downpipes.
The 5 common signs of Penetrating damp
There are 5 visual signs that your property is suffering from penetrating damp:
Damaged plaster – plaster will blister when it is deteriorating and it may show signs of "salting" which is when the salts found in the wall surface and leave a powdery residue.
Damp patches – there could be localised areas of damp patches that will continue to stay damp.
Mould – if you see mould and there is a musty smell there is likely to be a damp issue.
Damaged decoration – discolouration of paint and peeling wallpaper are signs that the property wall is letting water through.
Skirting boards and floor boards rotting – wood will decay and rot over time when exposed to water.
As well as being aesthetically unpleasing, damp can become a very costly issue to the structure of your property quickly. Fixing the problem as soon as you see the signs of damp is advisable.
What are the causes of Penetrating damp?
Building defects are the usual cause of penetrating damp: damaged roof coverings, leaking guttering or faulty sealing/pointing to doors and windows. Deterioration of external masonry, render and brickwork pointing through age, weather or physical damage are the main culprits of penetrating damp. These are the reasons why older properties are more at risk of water ingress.
Structural failure of a property can lead to chronic damp problems which requires diagnosis from damp control specialists. Penetrating damp can also be found below ground level, which is where a service like basement tanking should be considered.
APP's experienced surveyors are experts at diagnosing damp and can set out a recommended damp treatment plan in a detailed report.
6 areas affected by penetrating damp?
Although damp can occur almost anywhere in a property, penetrating damp can usually be found in these 6 main areas.
The roof – missing/damaged tiles, pointing and flashing are places that can fail and allow water to leak through the roof. Regular inspection of the roof is recommended.
Window frames – gaps and cracks around the frame should be filled with a flexible sealant to stop water ingress.
Door frames – cracks around door frames can occur and they need to be repaired as soon as they become evident.
External walls – holes in the existing mortar or cracks in the masonry happen over time or from physical damage.
Guttering and drains – gutters, downpipes and drains are designed to direct water away from your property, however, they can fail and leak. Ensure there are no leaks and no blockages regularly.
Chimneys – chimney heads can become defective and porous which will let water into your property.
Penetrating damp Treatments
At APP we make sure to get to the core of any damp issue in your property and this is no different with our approach to penetrating damp. Our surveyors and engineers are highly experienced damp professionals who follow a strict process that is proven to secure your home from damp and stop the problem occurring.
We Conduct A Damp Survey
Our qualified surveyors will visit your property and inspect all the affected areas to diagnose if the issue is penetrating damp and to decide on the course of penetrating damp treatment.
Locate and Eliminate the water source
The APP surveyor will then suggest the correct treatment to stop water entering the building.
Repair and treat affected areas
Now the water ingress has been corrected we will ensure the cause of the penetrating damp is treated and remains waterproofed.
Repair interior walls
We will remove damaged plaster and replaster to make sure the wall is as good as new.
Repairing timber decay
Our survey report will identify if there has been any damage to timbers. If this is the case, we will treat the damaged timber or replace if this is not possible.
Mould removal
Your property may be affected by mould, black mould in particular. If this is the case we will remove and treat the area.
We always recommend seeking the advice of trusted damp control specialists like APP Protect for an honest evaluation of your damp problems.
We're Ready To Help You
Please get in touch with our friendly team today and we can get the ball rolling on your project sooner than you think.