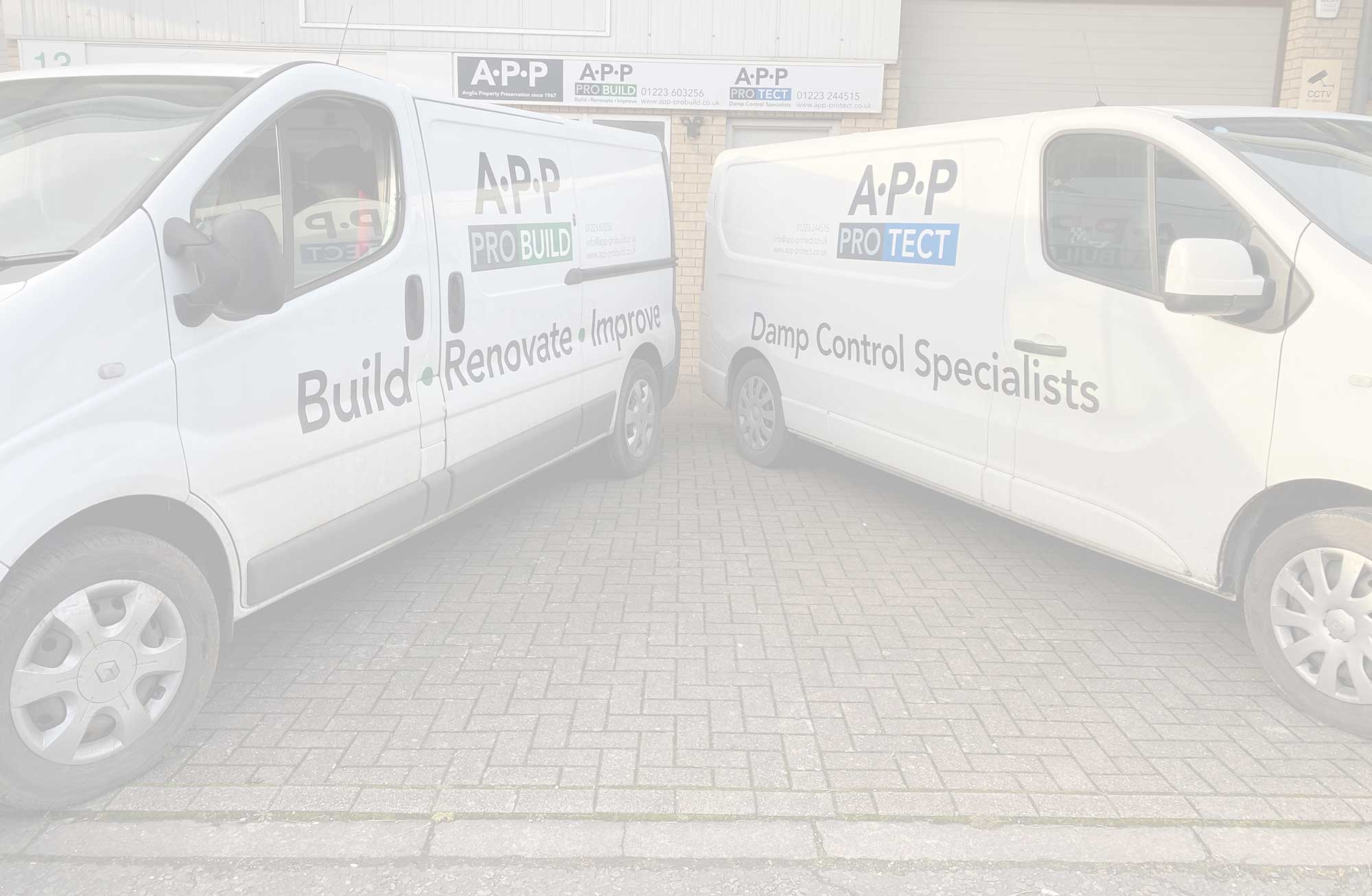 Basement Waterproofing Design & Installation Services
APP Protect, based in Cambridgeshire, has been established since 1967 and have been servicing the homes in and around Cambridge ever since. Our waterproofing services not only include basement waterproofing and basement tanking, we also specialise in damp proofing and timber preservation.
We work diligently with our clients, whether they're contractors, architects or homeowners, to ensure a rigorous basement waterproof design and smooth installation. This communication from first draft to project completion negates the potential for future issues such as rising damp, penetrating damp or condensation. In the design phase of your project we endeavour to select the correct basement waterproofing system for your structural situation while ensuring all building work is compatible with the required building regulations.
Cambridgeshire Basement Waterproofing Services
We've been offering our expert knowledge and providing high quality surveys throughout Cambridgeshire for over 50 years. If you're looking for Cambridgeshire basement waterproofing services then you'll be pleased to look through our testimonials. Feel free to take a look around our website and contact us if you need any more information. Over the 5 decades we've been operating we've built up successful relationships with homeowners, landlords, estate agents, builders and architects in order to work harmoniously.
The majority of our work is driven by customer referrals which is a sign of our professionalism and honest pricing. We depend on our reputation and we only ever want to see it grow, so we're committed to delivering on-time, on-budget and on-spec projects.
The Difference Between Basement Tanking and Basement Waterproofing
This is a question that our team of basement waterproofing specialists get asked on a regular basis. It is something that is definitely worth knowing while you're researching how to make your basement dry.
Basement tanking is the application of a waterproof coating or membrane to the basement floors and walls to inhibit water ingress. Whereas basement waterproofing refers to all types of waterproofing systems including tanking and cavity drain systems.
Experience & Knowledge
All of our team, from the back office to the engineers, are experienced and knowledgeable. Infact, we only employ the best people for each service we provide, ensuring their knowledge is always up to date and we are in line with modern practises. All of our engineers have earned a reputation of trust as they do not earn commission – this means you can truly believe their recommendations.
Accredited Waterproofing Specialists
As a company we truly believe in continuous professional development pathways and we make sure our valuable staff members are always in the know of the latest rules, regulations and techniques.
As Property Care Association (PCA), Trustmark, GPI and Contractor Health & Safety Scheme (CHAS) members we are consistently audited. These thorough audits are in place to ensure our working practises are of the highest standards and quality assurance is in place. Not only are we quality assured so vigorously our work is also protected by insurance-backed guarantees.
We're Ready To Help You
Please get in touch with our friendly team today and we can get the ball rolling on your project sooner than you think.